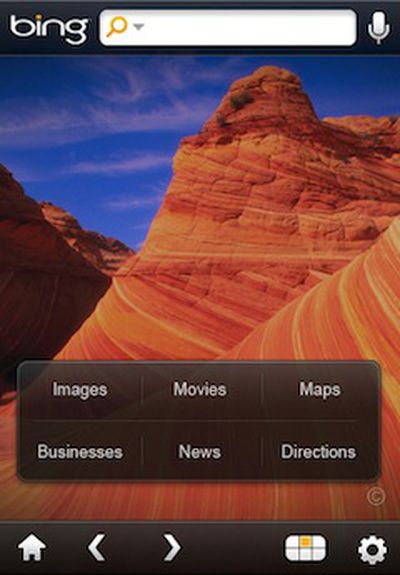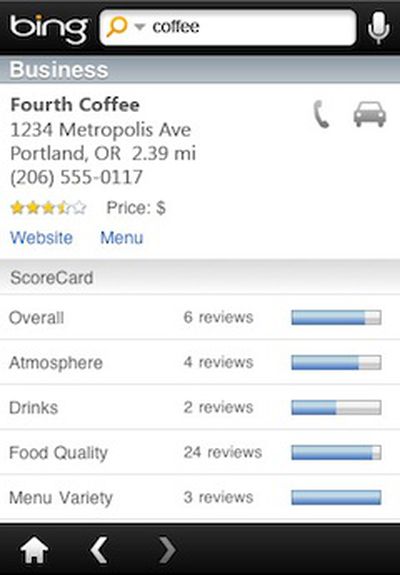 Microsoft yesterday
announced
the introduction of
Bing
[
App Store
, Free], an iPhone application offering direct access to the company's new search engine.
Aside from traditional topic searches, the application offers image search, movie times, maps and directions, business listings, and news search. Bing also utilizes geolocation to automatically provide movie listings in the user's area and to provide a default starting location of map-based directions.
Make decisions and get where you need to go with Bing. See the Bing daily image and related trivia on the home screen. Search maps or the web with your voice - even say an address. Use Image Search and flick through previews Download Bing today to find stuff nearby and get there fast.
Voice search very similar to that offered in Google Mobile App is also supported.
Our investments in voice search (you may have played with them on Windows phones or BlackBerry already) continues in our iPhone App and works great for map locations as well as old fashioned web search. Just say "San Francisco weather," for a quick result, or even say a full address for a map or directions. Try something complex, like "1 Microsoft Way, Redmond 98052." (Yes, I know how to get to work.) Hold the phone to your ear and speak, or press the mic button -- simple.
The iPhone version of Bing joins existing versions for Windows Mobile, BlackBerry, and Sidekick, as well as a basic mobile-formatted version of the site.