Google's Voice-Enabled Search for iPhone Now Available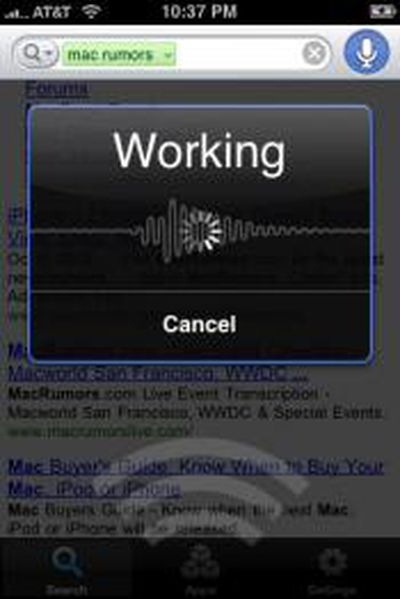 Lifehacker reports that Google's new Voice-Enabled Search application is now live in the App Store (sort of).
The new application is actually an update to Google's existing Google Mobile Application that is already available in the App Store. The version update adds Voice-Enabled search which was widely reported last week.
Users of the free application .... can place the phone to their ear and ask virtually any question, like Wheres the nearest Starbucks? or How tall is Mount Everest? The sound is converted to a digital file and sent to Googles servers, which try to determine the words spoken and pass them along to the Google search engine.
While the new version has not yet propagated to the App Store's update notification service, when users download the application, they are given the new version. iPhone users who already have the Google Mobile Application installed will have to delete the application and re-download it to get the new version at this time.
App Store Link: Google Mobile Application, Free
Update: Google's Mobile Application has now been updated on Apple's servers, so existing users can simple update their application to get the new version.