Apple's Share of Worldwide Smartphone Ad Requests Hits 50%
Mobile advertising firm AdMob today released its October 2009 Mobile Metrics Report, detailing the devices and platforms requesting ads from its network. While much of this month's report focuses on the breakdown of devices using Research in Motion and Android devices, one interesting tidbit revealed in the data is that Apple has finally reached a 50% share of the global smartphone ad request market.
Apple nearly reached the milestone back in May when it hit 49%, but the company's share temporarily dropped back over the next several months before beginning a sharp climb again in September. Apple's U.S. ad request share stood at 55% for the month of October, a strong increase from the 48% share held in the previous month but still well below its high of 69% measured in May.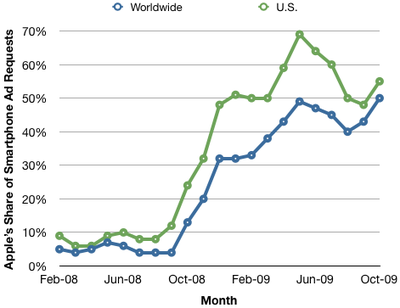 The reasons for Apple's dip in ad request share earlier this year are not entirely clear, as all indications have pointed to continued strong growth of the iPhone and iPod touch, with the successful introduction of the iPhone 3GS in June presumably having been a driver of that performance.
Google announced earlier this month that it has agreed to acquire AdMob for $750 million in stock. The company's thriving mobile advertising business had been seen as a popular acquisition target, and it was reported soon after Google's announcement that Apple had apparently also considered making an offer for the company.