Apple's Upper West Side Store Unveiled [Updated]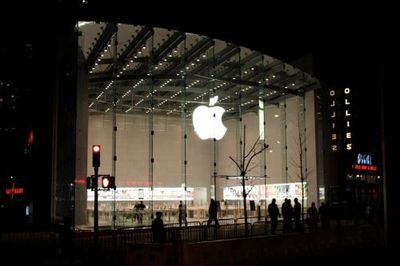 ifoAppleStore notes
that Apple has taken the wraps off the company's new
Upper West Side retail store
in New York City in advance of the public opening scheduled for Saturday morning.
At night the store is a beacon visible for several blocks, especially for those approaching by car or on foot from the south. The glow of the ceiling lights, the backlit logo and the back-lit wall graphics are brighter than anything on Broadway. As you approach closer, the towering height of the storefront becomes apparent. Once in front of the building, you realize that Apple opted not to create another Boston or Regent Street (London) store, with a mezzanine level. They took the Scottsdale Quarter (Arizona) store and did it one better -- this single space is about two and one-half times the volume of the Scottsdale building, and with a second level hidden away below ground like Fifth Avenue (NYC).
Numerous workers were busy Wednesday night cleaning the interior and exterior of the building in preparation for the store's opening. ifoAppleStore has also posted a gallery of photos of the new store, demonstrating the sparsely-arranged ground floor, towering ceiling, and low-profile spiral staircase to the lower level.

Apple will be opening several other retail stores this Saturday, with one in Montpellier becoming the second French store after the
Paris store
that opened last week, and a second opening in Chermside, Australia, a suburb of Brisbane.
Update: Apple has published a press release announcing the store opening.
Set beneath a breathtaking all-glass arched roof, the street level of the Apple Store Upper West Side offers more Macs, iPods and iPhones than any store in the world for an incredible hands-on experience. The lower level features the largest area ever created by Apple for personal training and technical support, including a 45-foot Genius Bar. Located on Broadway at 67th Street, the Apple Store Upper West Side is just minutes from Lincoln Center and Central Park.