Apple Grabs 17% of Worldwide Smartphone Sales in Third Quarter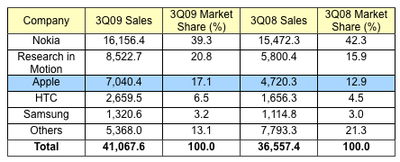 Worldwide Smartphone Sales in 3Q09 in Thousands of Units (Source: Gartner)
Research firm Gartner today issued a
report
covering worldwide mobile phone sales for the third quarter of 2009. The highlight of the data for Apple is the company's third-place showing in the smartphone category, grabbing 17.1% of that market in finishing behind market leader Nokia and Research in Motion.
Apple's worldwide smartphone share reached 17 per cent as iPhone sales totalled 7 million units in the third quarter of 2009 following the continued rollout of the iPhone 3GS in new countries. Its ASP is holding steady and sales in the fourth quarter should be even stronger as Apple starts selling in China, through one additional carrier in the UK, and in an additional 16 countries.
Overall, the mobile phone market experienced only 0.1% growth over the year-ago quarter, but smartphones continued their strong performance, growing 12.8% year-over-year.
Apple's share of the smartphone market has fluctuated significantly since the device's 2007 introduction as purchasing patterns have been affected by the company's product release cycle, seasonal variations in the industry, and introductions into new countries or wireless carriers. The general trend, however, indicates that Apple continues to outperform its competitors in the mobile phone industry as it builds market share in the fastest growing segment in the industry.