Apple Expands 'Apps for Everything' Categories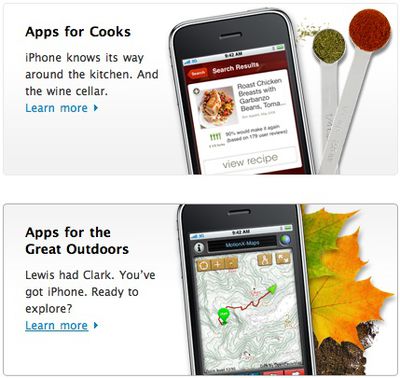 The Loop notes
that Apple has unveiled a redesigned
Apps for Everything
section of its web site devoted to iPhone and iPod touch applications featured by category. While the "Apps for Everything" listings have been around for a while, today's update nearly doubles the number of featured categories.
Once you discover the App Store, you'll see how applications can make your iPhone do just about anything. There are thousands of iPhone apps to choose from. Here are a few that will help you get the most out your iPhone, wherever you go.
Apple has recognized that the increasing number of applications in the App Store and the "race to the bottom" in pricing has made it difficult for high-quality applications to stand out from the crowd and gain notice among iPhone and iPod touch users. The company has taken a number of steps to address this issue, including the addition of keywords to App Store application descriptions to facilitate searching and new "top grossing" application lists to provide increased visibility for more expensive applications.
The inclusion of new categories on its Apps for Everything page, when combined with the Staff Picks feature of the Apps for iPhone page, provides additional incremental improvements in Apple tools for drawing to attention to worthwhile apps.