Apple Releases New 'Get a Mac', iPod Touch, and iPod Nano Ads
Apple this week has launched three new television commercials, including one new "Get a Mac" ad featuring Justin Long and John Hodgman in their usual roles, one highlighting the gaming focus of the iPod touch, and a third showing off the video capabilities of the new iPod nano.
The newest "Get a Mac" commercial, entitled PC Innovation Lab and posted yesterday to Apple's ad gallery, highlights several of Apple's technological innovations, including MagSafe power connectors and extended-life batteries. In contrast, Hodgman's "PC" character introduces several new tongue-in-cheek PC innovations, which include an "air-cushioned enclosure" and a "new, extremely long cord".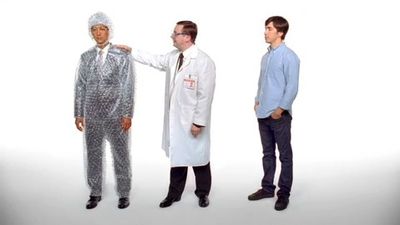 The other two commercials, introduced during Apple's "It's Only Rock and Roll" media event on Wednesday, have also been posted to their respective ad galleries. Apple's
Next Level Fun
commercial highlights gaming on the iPod touch by displaying a series of games, including several multiplayer scenarios, in quick succession. The new iPod nano commercial, entitled
Nano Shoots Color
, shows off the new device's video camera capabilities while also demonstrating the wide variety of available color options.