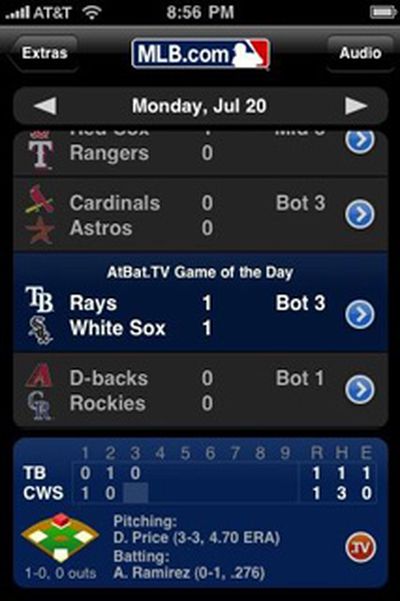 The MLB.com At Bat 2009 app has received an update today that offers in-app purchases of live out-of-market games for $.99, as well as customizable notifications to alert users before a game starts.
MLB.com's press release highlights the value of the new in-app purchase feature for those who do not subscribe to the MLB.TV service:
Now fans can have it both ways, just as the pennant races are hitting overdrive. You can use your MLB.TV subscription to immediately watch any live out-of-market game at any time. The 99-cent games are great options to those fans who do not have MLB.TV and who want the a la carte convenience.
Video of live games can be streamed over a Wi-Fi or cellular data connection and can be paused or rewound easily. Live audio broadcasts of game coverage are also available.
The MLB.com At Bat app costs $9.99 and can be found here (link opens iTunes).