Developer Offers Inside Look at Sales Gap Between App Store and Android Market
TechCrunch points to a blog post from mobile app developer Larva Labs highlighting the company's sales data for its high-ranking Android Market applications and comparing that performance with that of successful iPhone applications.
Larva Labs, which currently holds the #5 and #12 rankings on the Android Market list of top paid applications, brought in an average of $62.39 per day total during the month of August. According to TapTapTap developer John Casasanta, whose Convert app currently holds the #2 spot in the App Store, a comparably ranked #5 iPhone app would sell about 6,500 units a day worldwide. This would translate into earnings of $22,704/day for a $4.99 application (like Larva Labs') or $4,504/day for a $0.99 application.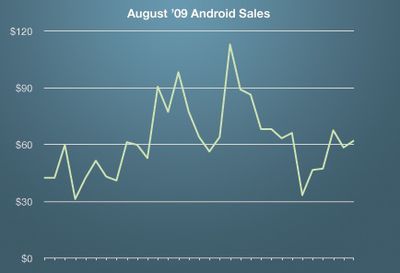 The posting also cites
Trism
, the early smash hit on the iPhone that earned its developer
$250,000 in its first two months on the App Store
, as an example of the wide gap between the App Store and the Android Market. Trism's developers have since ported the popular iPhone application to Android, where it has sold a total of about 500 copies for approximately $1000 in revenue in the nearly three months since its introduction.
It appears this isn't just our problem. To see examples from other companies just look in the market, a sales range is listed right in the summary of the app. A good example is the well known game Trism, which sold over $250,000 in it's first two months on the iPhone. On Android it has sold, to date, less than 500 copies. That's $1,046 total earnings, max. How psyched are those guys that they ported a huge hit to Android and can't even cover a party sub for the release dinner?
Larva Labs also provides data suggesting that a recent AdMob study estimating the Android market size at about $5 million per month, compared to $200 million for the App Store, likely overstates the Android market.
Assuming we are the average though, there would need to be over 2,500 other Android developers to get to $5M total sales. The last estimates I heard put the number of applications at around 12,000, so there's probably around 4,000 developers total. That means over half of the developers need to be earning what we do to reach $5M a month. However, we know from experience that below position 25 on the top selling games the earnings drop off to almost zero so it's very unlikely that anyone below that position is earning much money at all.
So where does the Android Market fall short? Beyond an approximately 15x smaller installed user base than the App Store, Larva Labs points to a lack of screenshots in the Android Market, excessively small application description limits, awkward Google Checkout payment procedures, poor organization making paid applications difficult to find, and intermittent performance issues in the store as contributions to a poor user experience.
Despite the many areas in which the Android Market falls short and the poor sales data, however, Larva Labs remains hopeful that rumored upgrades from Google and the introduction of a number of new handsets will eventually turn the Android Market into a viable business for developers.