More Purported iTunes 9 Screenshots Surface [Updated]
Earlier this week, MacRumors received several purported screenshots of iTunes 9, as well as a screenshot of a user's Facebook page demonstrating how the rumored social networking integration would automatically post iTunes track and playlist information to Facebook. Interestingly, the screenshots also appear to depict support for third-party media players, in this case a 30 GB Samsung YH-J70.
MacRumors has been unable to confirm the authenticity of the supposed screenshots, but the same source has now provided additional screenshots to Boy Genius Report, revealing an iTunes version number of "9.0b15 (12)".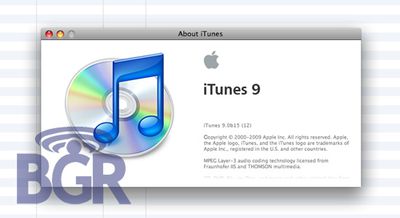 Image from Boy Genius Report
Update: We have good reason to believe these screenshots are fake.