iPhone Share of Smartphone Sales Continues to Increase
Research firm Gartner today released a report detailing mobile phone sales for the second quarter of 2009. While Apple does not rank among the top five worldwide vendors for all phones, the report also highlights the smaller smartphone segment, where Apple held the third position in unit sales with 13.3% of that market. Apple's market share is up from 10.8% in the first quarter of this year and from only 2.8% in the year-ago quarter.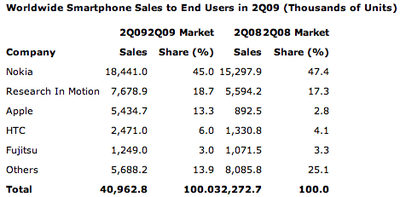 The significant increase in the year-over-year data is due in large part to the timing of Apple's product releases. Because the iPhone 3G was not launched until July 2008, Apple's sales number for the second quarter of that year reflected potential customers holding out for the new model and did not include the sales numbers generated at the device's launch. With the iPhone 3GS launching in June of this year, the initial sales bump, which included
one million iPhone 3G models
sold in the launch weekend and continued brisk sales in the remaining week of the month, was included in Gartner's data. Gartner also notes that the early June iPhone 3G price drop to $99 contributed to increased sales for Apple.
Apple's expansion into a larger number of countries in the past year has produced a clear effect on sales volumes, as have the recent price adjustments on the 8GB 3G iPhone. Sales of 5.4 million units in the second quarter of 2009 indicated a 51 per cent growth in shipments and helped Apple maintain the No. 3 position in the smartphone market, where it has stayed since the third quarter of 2008. Apple brought its much-anticipated new device -- the iPhone 3G S -- to market at the end of the second quarter of 2009, but its full potential will only start to show in the sales figures in the second half of 2009.