Prototype iPhone 3GS on eBay? (No, No Matte Case) [Updated]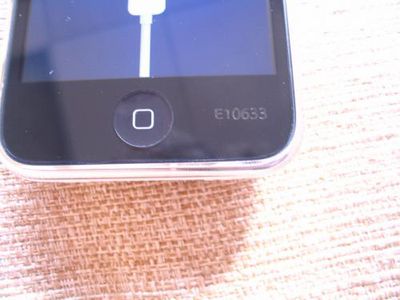 FixYourThinking.com
(via
Cult of Mac) reports on a "sketch-looking" non functional white iPhone that is being
sold on eBay
as a prototype iPhone 3GS.
The seller says theres a problem with restoring the software: This device is not eligible for the requested build, iTunes says when he tries to restore it.
The seller, vofffka, of Ocean City, New Jersey, says an Apple genius at his local retail store verified the iPhone as an Apple product, but cant service it, because its never been sold.
For those curious, the additional photos of the device's casing show that it does not have the rumored matte case that was thought to be destined for the iPhone 3GS. We can't be sure the auction is real, but prototype Apple devices have been known to find their way onto eBay. A prototype of the original iPhone was also sold on eBay.
Update: Based on the model numbers inscribed on the case, it seems at best this is a prototype 3G, not 3GS.