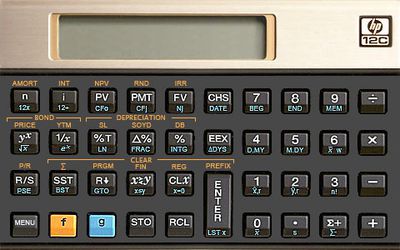 Macworld reports
on Hewlett Packard's recent release of two iPhone app versions of classic HP calculators, the
HP 12C Financial Calculator
[
App Store
, $14.99] and the
HP 15C Scientific Calculator
[
App Store
, $29.99]. HP is reportedly also working on an iPhone version of its 12C Platinum calculator, which is expected to be released in early August and priced at $19.99.
While the price points may seem high to some users, the calculator apps offer significant feature sets at prices considerably lower that the corresponding hardware calculators.
The $15 HP 12c and $20 HP 12c Platinum provide the same business-focused functions and formulas as the hardware models, and the $30 HP 15c includes all of the original's scientific algorithms and calculation sequences, including matrix, root, and complex-number functions. All three apps are also, like their hardware counterparts, programmable. (The HP 12c and 12c Platinum are still in production; the HP 15c is no longer made, but used models still command high prices.)
Several third parties have previously released their own calculator applications emulating the HP classic calculators, but HP's willingness to undertake its own project helps demonstrate that even large companies are seeing opportunities for their products to make their way onto the iPhone.