More WWDC Tidbits: iPhone 3G S Oleophobic Screen, "Find My iPhone" Live
A couple of other minor items we've found worthy of mentioning have popped up in the excitement of Apple's Worldwide Developers Conference.
- iPhone 3G S Oleophobic Screen Coating: A number of readers have pointed out that Apple's tech specs page for the new iPhone 3G S mentions that the device's screen includes a "fingerprint-resistant oleophobic coating". Fingerprint smudges on the iPhone's screen have been a minor but frequent complaint from users.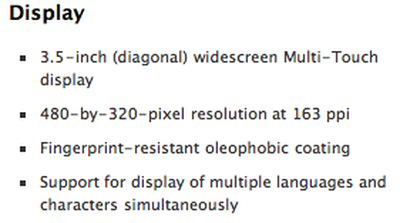 Apple's
iPhone cleaning instructions
also differentiate between the iPhone 3G S and earlier models. While Apple recommends that original iPhone and iPhone 3G screens be cleaned with a "soft, slightly damp, lint-free cloth", the iPhone 3G S's oleophobic coating allows users to clean their screen with a dry cloth, simplifying the cleaning process and reducing potential moisture damage.
- "Find My iPhone" Live: One of the iPhone OS 3.0 features previewed during Monday's keynote was "Find My iPhone", which allows MobileMe customers to track the location of their lost iPhone, send alerts to the device in order to assist with recovery, and to perform remote wipes for data security. Several readers have reported that the feature is already live for those with iPhone OS 3.0 installed, and Engadget offers a video demo illustrating the feature. In addition to a text alert, the lost device emits a pinging sound upon receipt of a message sent via the MobileMe interface, even if the iPhone is set to silent mode.