Next Generation iPhone Bezel Revealed?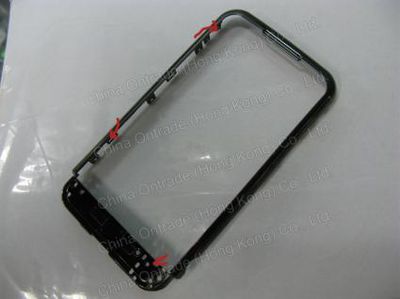 iPhone Ticker first reported
on new "Apple iPhone 3Gen 2009" parts listed for sale at parts supplier
ChinaOnTrade
.
It can be hard to tell exactly what has changed from just the single part, but iLounge breaks down the changes that they see:
Notably, the bezels appear to show a repositioned and redesigned ear speaker, now significantly higher above the display than the present speaker, and ringed with metal, a change that may make room for additional front-mounted sensor or camera hardware. Also changed is the bezels color, which has shifted from the prior silver in all iPhone and iPhone 3G models to a nearly black metallic color reminiscent of the backs of later fifth-generation iPod U2 Special Edition models.
The lack of a silver rim could indicate some minor changes to the appearance of the next generation iPhone, though the legitimacy of the parts remain up for debate.