AdWhirl: Free Ad-Supported iPhone Apps Can Be Very Lucrative
Mobile advertising company AdWhirl issued a report (PDF) that details the success of some of the top ad-supported iPhone apps. AdWhirl serves 250 million ad impressions monthly to over 10% of the top 50 Apps in the App Store.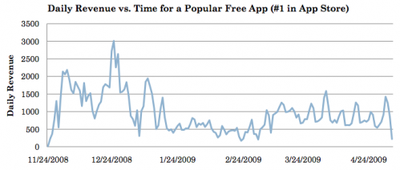 According to their data, developers who break into the top 100 Free iPhone Apps can make as much as $400-$5000 a day. These seem to represent "peak" revenues at the height of an app's success but revenue for this application depicted does appear to reach a consistent level over time.
The findings are somewhat contradictory to previously published reports from Pinch Media who believes that the majority of apps would do better as paid applications as usage drops precipitously over time. AdWhirl's examples, however, appear to represent some of the highest earners rather than necessarily a broad cross sample.
Still, it provides some hope for an alternative revenue streams for developers.