'AppStore Secrets' : Price Drops, Usage and Ad-Supported Models
Greg Yardley, co-founder and CEO of mobile analytics firm Pinch Media, recently gave a presentation at the New York iPhone Developers Meetup highlighting data gathered from over 30 million App Store downloads of applications utilizing Pinch Media's analytics libraries. The presentation, entitled 'AppStore Secrets', reveals a number of interesting of statistics and conclusions.
Notably, Pinch Media's data on price changes reveals that a price cut on average results in a 130% increase in sales demand, while a price increase decreases demand to 25% of previous levels. The data, however, also suggests that while price cuts can be beneficial, developers should not initiate price cuts on apps that are already seeing a trend of increasing downloads, and that applications that have already seen broad visibility benefit less from price cuts.
Regarding the ability of applications to sustain users' interest, Pinch Media discovered that only about 1% of downloads end up being used long-term, with only about 20% of users of free applications using the application beyond the first day. While paid apps generally perform a bit better in this regard than free apps, the drop-off in usage is still steep in the vast majority of cases. Similarly, the amount of time users spend engaged with an application decreases significantly, stabilizing at approximately five minutes per day, although games do perform approximately twice as well as other applications in this regard.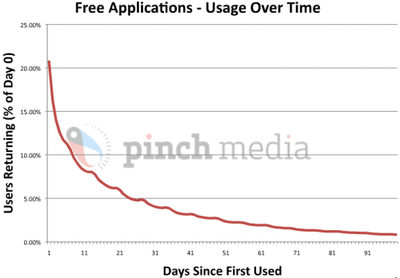 Pinch Media also performed analysis on ad-supported and paid applications to determine which model is likely to perform better. Based on their data and estimates of ad pricing, they concluded that in general an ad-supported application would have to "bombard" users with ads in order to generate as much revenue as a paid version. There are, however, certain applications (less than 5%) that can either command higher ad rates due to their audience or keep users engaged for a long enough period to make an ad-supported business model worthwhile. Consequently, Pinch Media recommends that unless there is a compelling reason to launch an ad-supported application, developers should charge for their apps and only switch to an ad-supported model if usage data suggests that such a move would be successful.