Snow Leopard QuickTime X Player to Offer Integrated Video Sharing Features?
AppleInsider reports that QuickTime X Player, slated for release as part of OS X 10.6 Snow Leopard later this year, will feature integrated uploading of supported video files to YouTube and MobileMe.
In particular, the application will let users take any supported video file and upload it directly to YouTube. Users will be prompted to enter their YouTube username and password, and QuickTime X Player take care of the rest. This includes converting the movie into a file optimized for the video sharing service and then uploading it to the appropriate user account.
Of course, Apple will also offer a similar option for users of its own MobileMe service that will take video files and upload them to a MobileMe Gallery. Both options are reportedly accessible via a new "Share" menu in the QuickTime X Player interface.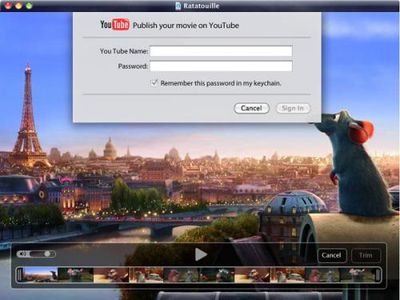 Mockup of YouTube upload dialog (Source: AppleInsider)
The new "Share" menu will reportedly also provide a more prominent location for existing options for export to formats optimized for the iPhone and Apple TV. The report also points out that the change will bring integrated YouTube offerings to all three of Apple's platforms, with a standalone iPhone application available since the device's launch, and YouTube functionality
added to the Apple TV
in a software update just months after the device's 2007 debut.