Apple Researching Methods to Offer Customized Control of Browser-Based Audio Content
In a patent application filed in November 2007 and released today, Apple reveals that it is researching methods for providing customized audio control for Internet browser content. The research is targeting the inability for a single system volume setting to address multiple simultaneous audio-generating applications, a common inconvenience for computer users. For example, a user may have audio content playing in the background through iTunes and may wish to mute only browser-based audio content coming from websites.
When using a web browser application (e.g., Microsoft Internet Explorer, Apple Safari), audio sources (e.g., websites) will often provide audio signals (e.g., music, noises) which may or may not be welcomed by the user. While operating system desktops often provide audio controls (e.g., volume controls), such audio controls adjust all audio signals playing on the host device, including desirable audio signals such as music the user desires to play from their music library while browsing the Web. Accordingly, if desktop audio controls are used, then desirable audio signals, as well as undesirable audio signals, will be adjusted together which may not be the intent of the user.
The patent application describes a browser-based system for adjusting the volume of Web-generated content and offers a system for remembering the user's preferences for future encounters with the audio content from those sources, identified by URL or domain.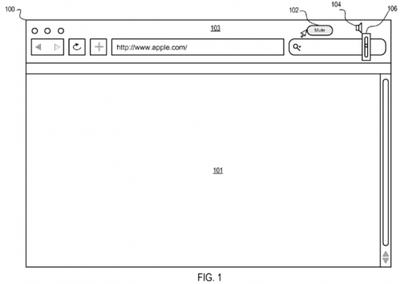 Browser-based audio controls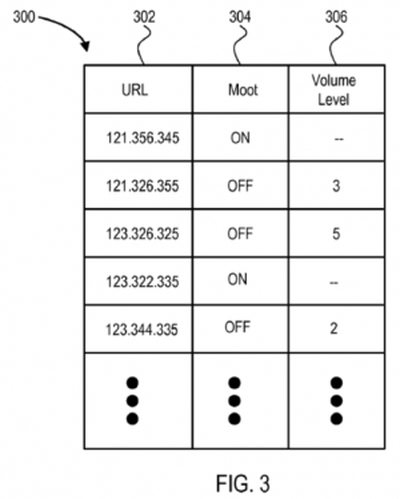 Sample list of Internet audio sources and user preferences
(The category labeled "Moot" is a misspelling of "Mute".)
The application also describes an implementation of the invention in which the differing preferences can be activated depending on whether audio is already playing on the system. For example, audio from websites could be muted if audio content is currently being played from a media player application such as iTunes, but audible if iTunes was inactive. Another implementation offers a server-based preference system, which would allow user audio preferences to be shared across devices for which such control is desired.