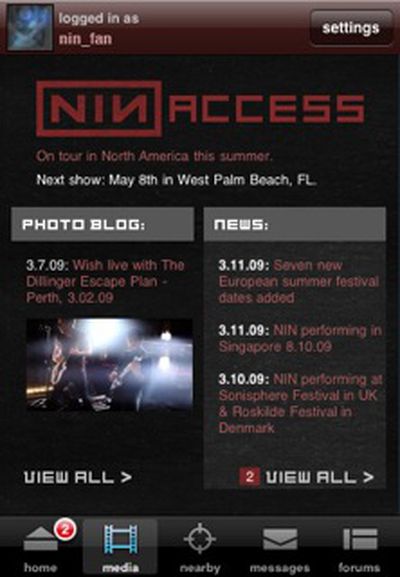 Last week, we reported on an upcoming Nine Inch Nails application utilizing location-based social networking features and integrating with the official nin.com website. The application, titled nin: access [App Store, Free], is now available.
- Engage in location-based conversation and share photos with other NIN fans around the world.
- Access the latest NIN news and blog updates.
- Listen to a variety of streaming NIN music, including exclusive playlists and thousands of fan-created remixes.
- View, save, and share images and videos from nin.coms vast fan-supported media archive.
- Get exclusive free wallpaper images formatted for iPhone & iPod Touch.
- Access to nin.com's thriving forums.
- Login with your free nin.com account, or create a new one directly from the app.
- Send & receive private messages and view user profiles.