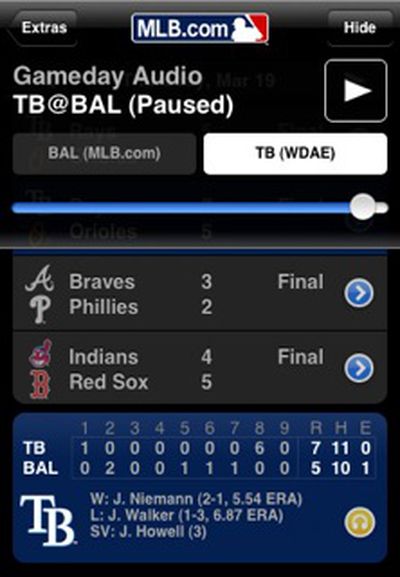 MLB.com At Bat 2009 [App Store, $9.99] has appeared in the App Store, reviving one of last year's popular sports apps and adding in-game audio for all Major League Baseball games during the 2009 season.
Featuring exclusive pitch type, location and speed data from MLB.com Gameday, plus real-time box scores, play-by-play and video highlights, it's the fastest, most detailed way to follow games on your iPhone or iPod touch.
And new for 2009, At Bat includes MLB.com Gameday Audio. You can listen to every regular season and Postseason game LIVE, with your choice of the home or visiting team's announcers.
The 2008 version of the application debuted midway through the season at a price point of $4.99 and was featured in an iPhone commercial.
Last year's version continues to exist as MLB.com At Bat Lite [App Store], a free application that has been providing full coverage of the now-completed World Baseball Classic, as well as Major League Baseball spring training, which is wrapping up in just a few days. For the 2009 regular season and playoffs, MLB.com At Bat Lite will provide real-time scores and schedules, but will not offer the advanced features found in the paid version.