AirPort Extreme and Time Capsule Update Details: Dual-Band, Guest Networks, Remote File Access
As we noted earlier today, Apple has updated their AirPort Extreme Base Station and Time Capsule offerings. A few of the new features are worth highlighting:
Simultaneous dual-band support - Operates simultaneously on both 5 GHz (802.11n) and 2.4 GHz (802.11b/g) frequencies to allow all wireless products to connect on the best available band. On previous models, users wishing to permit 802.11b/g devices such as many older Macs or the iPhone or iPod touch to connect to their access point were required to run in "mixed mode" at 2.4 GHz, negating some of the peformance benefits of 802.11n-enabled devices running on 5 GHz networks.
Guest networking - Creates a secondary network to allow family and visitors to connect to the Internet, while keeping the primary network with attached printers, drives, and other devices secured. The secondary network can be configured with a different password from the primary network or can have no password at all.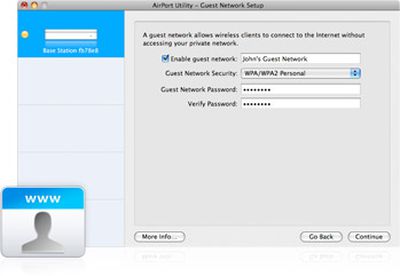 Guest Network Setup
Access files on a networked drive from anywhere
- Allows MobileMe subscribers to register their AirPort Extreme Base Station or Time Capsule with their MobileMe account, providing them access to their files from anywhere via the Internet. Drives will appear in the Finder sidebar like any other attached drive, acting just like a personal file server with remote access.