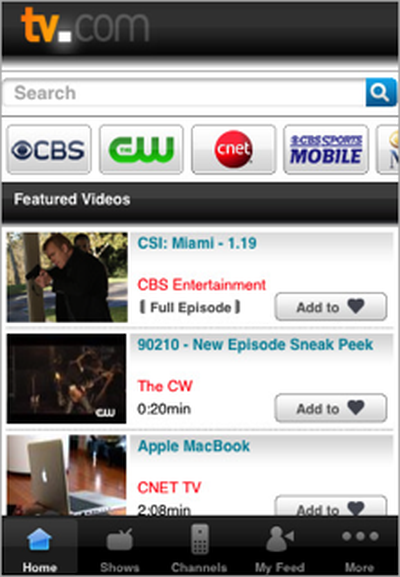 CBS has released TV.com [App Store], a new free iPhone application providing access to streaming content from the CBS family of networks.
While full episode content is currently limited to older series such as "Beverly Hills 90210", "MacGuyver", and "Star Trek: The Original Series", more limited clips are available from a variety of CBS-owned 'channels', including CBS Entertainment, The CW, Showtime, CNET TV, CBS Sports, GameSpot, CBS News, ET (Entertainment Tonight), CBS Radio, The Insider, and Chow.
Saul Hansell of The New York Times tested TV.com's ability to stream over cellular networks in a real-world setting and was pleased with the results.
But the TV.com application appears to be the first with a lot of mainstream network content that can gain access to full episodes over both the cellular network and Wi-Fi. My test of watching Spock confront a strange cube-like object in space was perfectly acceptable in quality while I was riding on the bus in New Jersey.