Notes from MWC: Copying iPhone, Offline Gmail, Turn by Turn GPS for iPhone
Mobile World Congress 2009 took place this week in Barcelona, Spain bringing together the major players of the mobile phone industry. While Apple chose not to attend, a lot of the talk still surrounded Apple's iPhone. Here are a few notes of interest to come out of the conference.
- Apple's iPhone seemed to take center stage during a panel discussion with CEOs from Microsoft, Nokia and AT&T. They criticized Apple's closed vertical ecosystem. Microsoft's Steve Ballmer, specifically, had this to say:
"I agree that no single company can create all the hardware and software," he said. "Openness is central because it's the foundation of choice."
One audience question asked why these panelists were so worried about Apple when the iPhone holds only a small percentage of mobile phone marketshare. AT&T's De la Vega summed up the answer: "Because the other 99.5 percent of the industry is trying to copy the iPhone."
- Apple's investment in supporting upcoming web standards may begin to pay off with a new breed of "offline" web applications. Google demoed a version of GMail that will still work even when Airplane mode is on. Airplane mode effectively takes the iPhone offline, but by using local storage capabilities found in HTML5, users would still be able to browse and manipulate their mail. A YouTube video shows it in action. These sort of offline web applications have been discussed as possibilities in the past given Apple's investment in web-standards. Of course, these apps would work on any HTML5-compliant browser, including Android phones.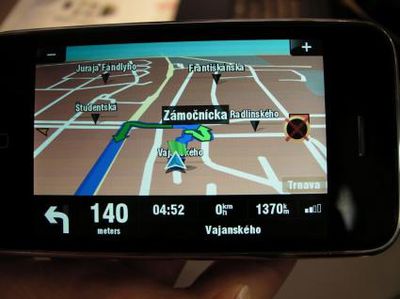 Photo from
The iPhone Blog
- A company called Sygic
demonstrated
a full featured turn-by-turn GPS application for the iPhone and is planning on submitting it to the App Store despite SDK terms that seem to specifically prohibit such applications.
- Gizmodo took a look at the new Android G2 and liked it with the exception of the typing interface.