Apple to Integrate 'QuickTime Pro' Features into Snow Leopard?
The latest Mac OS X 10.6 Snow Leopard seeds suggest that Apple may be eliminating the 'QuickTime Pro' upgrade that is currently offered as a $29.99 upgrade to Mac users.
Apple has long reserved several additional features for QuickTime Pro that are not available in the standard QuickTime Player. Some of these features include editing (cut, copy, paste), exporting to different codecs, and saving web QuickTime movies to hard drive. In a standard Mac OS X installation, these features are dimmed out in the QuickTime Player application: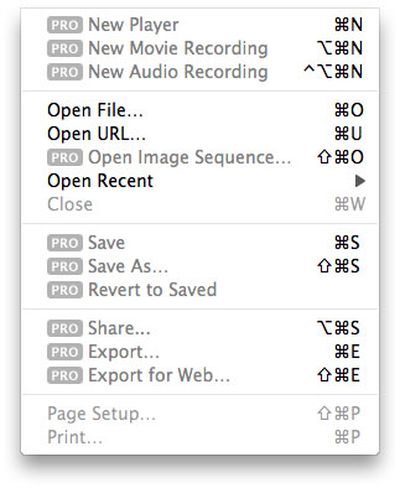 QuickTime Player in 10.5
In the latest Snow Leopard builds, however, all features are reported to be fully enabled. In addition, the "Buy QuickTime Pro" and "Registration" links have been completely eliminated as menu options and the registration control panel also removed from the System Preferences.
These changes suggest that Apple may finally be incorporating all the Pro features into the standard QuickTime installation. Apple has announced that it would be revamping QuickTime in Snow Leopard with the introduction of QuickTime X. Apple will be incorporating technology from the iPhone into QuickTime X to optimize support for modern audio and video formats.