Macworld San Francisco 2009: Flickr Gallery, 2010?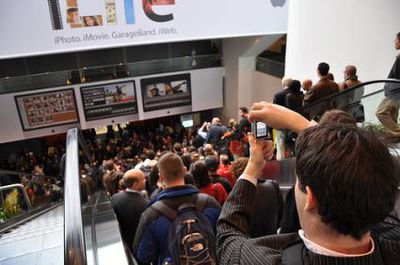 Macworld Expo 2009 officially ended on Friday, and media and attendees have since scattered back to their respective locations. Beyond the product announcements themselves, we certainly enjoyed meeting up with readers and other Mac personalities from around the world.
Delicious Monster
sponsored a meetup for our readers and the following companies provided giveaway prizes:
Dr Bott
,
Speck
,
Beejive
,
Iconfactory
,
Just Mobile
, and
Ten One Design
. Thanks to them.
Blake Patterson's Macworld San Francisco Flickr Photo Set captures the Macworld experience from the keynote line, pre-keynote waiting, opening of floor and even down to late night bar gatherings and a 3 a.m. Denny's run. Gatherings involved both familiar faces (Gruber) and newcomers (Fieldrunners developers)
The fight for 2010 seems to be on as CNet has confirmed that CES is organizing a Mac-themed area next year and is actively recruiting Mac exhibitors. Meanwhile, IDG/Macworld has already opened expo-pass registration for Macworld SF 2010 and appears to be offering free floor passes at this early date (normally $25-$45).