Apple Releases iPhone 2.2 Firmware with Street View, Emoji and More [Updated]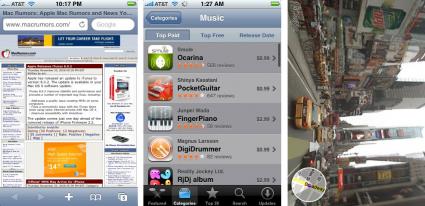 Surprisingly, Apple has released the
iPhone 2.2 firmware
tonight shortly after midnight. The latest update is available in iTunes for existing iPhone and iPod touch owners. The update contains:
Enhancements to Maps
- Google Street View
- public transit and walking diretions
- display address of dropped pins
- share location via email
Enhancements to Mail
- resolved isolated issues with scheduled fetching of email
- improved formatting of wide HTML email
Improved stability and performance of Safari
Podcasts are now available for download in iTunes application (over Wi-Fi and cellular)
Decrease in call set-up failures and call drops
Improved sound quality of visual voicemail messages
Pressing the Home button from any Home screen takes you to the first Home screen
Preferences to turn on/off auto-correction in Keyboard settings
The update appears to deliver all of the expected features that we have detailed over the past several weeks. Other new findings include:
- App Store links in Mobile Safari correctly link directly to the App Store.
- Street view does not appear to be in the iPod Touch
-
Tech note
on downloading Podcasts in iPhone 2.2
- Netshare still works according to one user
-
Emoji troubleshooting
and
Emoji technote
for Japanese customers.
-
Security changes
found in 2.2.
-
Transit directions screenshot
-
How to invoke Street View
on the iPhone
Update
:
List of new and undocumented 2.2 features