Apple Incorporates HDCP (Copy Protection) in New Laptops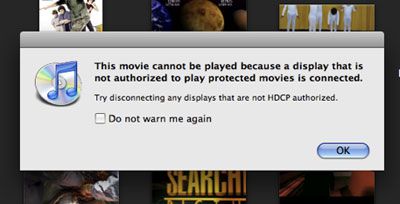 Apple's new unibody notebooks
appear to incorporate
a version of copy protection known as
HDCP
. HDCP is most well known for preventing unauthorized copying across HDMI but is also used for the DisplayPort which is found in Apple's new MacBooks, MacBook Pros and MacBook Airs.
High bandwidth Digital Content Protection (HDCP) is a form of digital copy protection developed by Intel Corporation to prevent copying of digital audio and video content as it travels across DisplayPort, Digital Visual Interface (DVI), High-Definition Multimedia Interface (HDMI), Gigabit Video Interface (GVIF), or Unified Display Interface (UDI) connections, even if such copying would be permitted by fair use laws.
HDCP tries to prevent unauthorized transmission of protected digital content by only requiring HDCP to HDCP connections. Ars Technica describes how one unibody MacBook owner ran into this copy protection:
When my friend John, a high school teacher, attempted to play Hellboy 2 on his classroom's projector with a new aluminum MacBook over lunch, he was denied by the error you see above. John's using a Mini DisplayPort-to-VGA adapter, plugged into a Sanyo projector that is part of his room's Promethean system.
In this case, the DisplayPort-to-VGA connection is not HDCP aware. As a result, the MacBook refused to play the video.
At this time, it appears only a portion of the iTunes movie content is HDCP encoded as some movies will playback without any issues. Apple has stated it plans on incorporating DisplayPort into all future Macs and Displays. The inclusion of HDCP/DisplayPort may shed some light onto Apple's comments about Blu-Ray licensing which was described as "a bag of hurt". Apple's inclusion of Blu-Ray playback into Macs could conceivably require support for HDCP.
Update: The Apple TV also supports HDCP over its HDMI connector.