T-Mobile and Google Introduce First Android Phone (G1)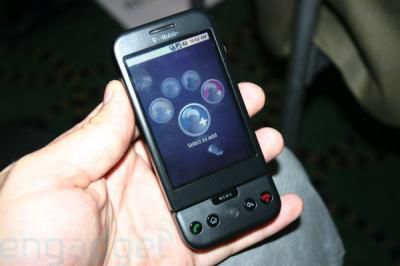 Image from
Engadget
Google and T-Mobile have introduced the first Android-based mobile phone today called the T-Mobile G1. T-Mobile held a press conference which is
available
for online streaming. T-Mobile's press conference provided quick overviews of the device and seemed to position the device directly against the Apple iPhone with developers discussing the openness of the platform without any approval process. The phone will be commercially launched on October 22nd alongside a large marketing campaign. Features discussed:
- Amazon mobile music store (press release) preloaded on the G1.
- Built in keyboard. Google Maps. Android Market, YouTube
- Launch on October 22nd
- No tethering option
- SIM-locked to T-Mobile
- Read Word, PDF, Excel files. No exchange compatibility, but 3rd parties could bring it.
- GMail is push, IMAP is pull
- No desktop application to sync
- Interface video
- Specs: 480x320 screen, 3.1MP camera, 5hrs talk time, 1GB MicroSD card preinstalled, GPS, accelerometer. Wi-Fi. 3G. Bluetooth.
- $179 with 2 year contract
Walt Mossberg provides first impressions of the new device and describes it as a "versatile device which will offer users a real alternative in the new handheld computing category the iPhone has occupied alone." Other notes:
- Physical keyboard. Typing "OK"
- Tied to Google web email, contacts, calendar. Support for 3rd party email too.
- "Won't win any beauty contests" but feels good in hand when closed
- Software slick, responsive
- Copy, paste
- Instant Messaging
- Very basic music player, Amazon MP3 downloads
- No built in video player, but you can download one from the Market
- Only comes with 1GB memory. Upgradable to 8GB.
- Removable battery.
Update: Official site up.
Update 2: Comparison video between G1 and iPhone.
Update 3: No 3.5mm headphone jack