Next-Generation iPod nano to be Taller (Zune-Like)?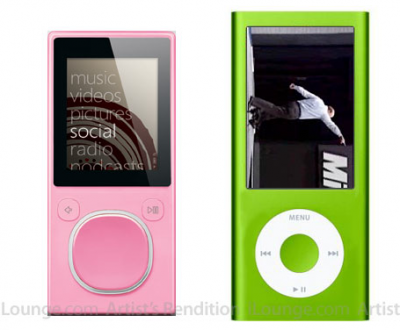 Zune on left, artist rendition of Nano on right. From iLounge
iLounge reports
that the next generation of iPod nano may sport a taller screen, matching the iPhone and iPod touch's screen aspect ratio of 1.5:1 and up from the 1.33:1 aspect ratio found in the current iPod nano display.
To fit the screen and Click Wheel neatly together, the new nano will adopt a form factor that shifts away from the almost square dimensions of the 2007 third-generation nano back towards the general shape of the first- and second-generation models. As one of our sources noted, its a surprise that the new nano will be bigger than the prior model, but the goal appears to be preservation of all of the prior models usability while adding a bigger screen, and there arent many other ways to accomplish that goal.
A vertically-oriented screen suggests that videos would be viewed with the iPod nano turned sideways. iLounge draws comparisons between the new design to Microsoft's Zune MP3 player.
iLounge's sources also indicate that a recent rumor of multicolored iPod nanos is "most likely inaccurate" and that each version of the new iPod nano, presumably differing in storage capacity, will be offered in only a single color.
iLounge hasn't traditionally published many rumors but did publish accurate case drawings of the iPhone 3G prior to its release.