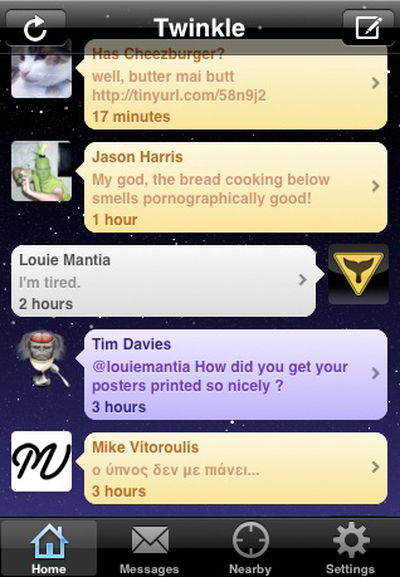 Tapulous has released a new twitter client into the App store today:
Twinkle
[
App Store
]. Like
Twitterific
[
App Store
] before it,
Twinkle
provides users with a native application to access
Twitter.com
, a social networking and micro blogging tool.
The primary differentiating features of Twinkle is the addition of Location Services which allows you to find other users near your location.
Discover, connect and send messages to people nearby. Upload photos and update your Twitter account. Contact old friends and make new ones, all with Twinkle, the location-aware network for iPhone and iPod touch.
Features
- Chat with people nearby
- Broadcast what you're up to
- Attach pictures
- Update your location
- Full Twitter support