WWDC Snow Leopard and Safari 4 Screenshots
German site Apfeltalk.de has posted (via Engadget) screenshots from Safari 4 as well as Apple's preview release of Snow Leopard given to developers at WWDC.
Not surprisingly, since the next version of Mac OS X is being billed as having few new features, there isn't a whole lot to capture in screenshots. "No new features" isn't entirely accurate, of course, as Apple is focusing on underlying performance and stability in Snow Leopard.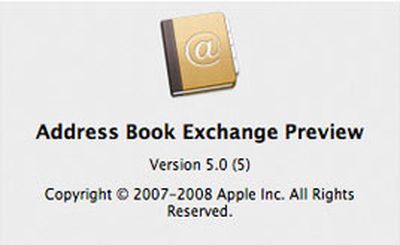 The screenshots, however, do capture the new
Address Book
with
Microsoft Exchange support
coming in Snow Leopard.
Apfeltalk.de
also provides a series of images capturing Safari 4's "Save as Web Application" feature which allows users to save specific web pages as "Site Specific Browsers". This allows users to save specific websites as self-contained applications that can be launched independently of Safari.
Fluid
is a 3rd party application that provides similar functionality on current versions of Mac OS X and Safari.