Apple Highlights iPhone Enterprise Interest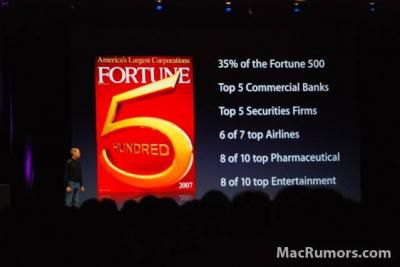 At the beginning of Apple's Worldwide Developers Conference keynote today, Apple CEO Steve Jobs highlighted some of the interest that has been shown from the enterprise market since the preview of iPhone Firmware 2.0 and the Software Development Kit.
According to Apple, 35% of the Fortune 500, including the top 5 commercial banks, top 5 securities firms, 6 of 7 top airlines, 8 of 10 top Pharmaceutical companies, and 8 of 10 top Entertainment companies, and higher education customers have all contacted Apple regarding the capabilities presented.
Apple has detailed more of the iPhone Enterprise features on their website.
What makes iPhone a great business phone? Simple. The same features that make it a revolutionary mobile device. With iPhone 2.0 software, iPhone does even more for your enterprise. It supports Microsoft Exchange ActiveSync, delivering push email, calendar, and contacts. And it gives mobile users secure access to corporate resources with Cisco IPSec VPN and wireless network services with WPA2 Enterprise and 802.1X authentication.
---
Thanks to our MacRumorsLive sponsors:
MacHeist
,
Awaken
,
Crush FTP
/
Crush Sync
,
iPhoneRingToneMaker
,
StevenPriceProductions
.