Apple Shooting 3G iPhone Commercial at 5th Avenue Apple Store? [Updatedx5]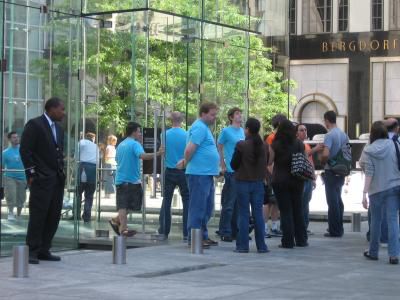 Apple's 24-hour flagship 5th Avenue retail store in Manhattan is in the process of shutting down for the night. An unusual move for the 24-hour store. Apple's
retail page
reflects the temporary shutdown:
Please note we will be temporarily closed Thursday, May 29 at 3:00 p.m. and will reopen Friday, May 30 at 9:00 a.m. During this time, please visit one of our other two Manhattan locations.
Employees are telling passersby that a commercial is being shot at the 5th Avenue Apple store. We've been told that Apple's 5th Avenue store has only been entirely closed twice in its history: the iPhone launch and the Leopard launch.
According to MacRumors sources, Apple is actually filming a commercial for the upcoming 3G-capable iPhone with filming to occur inside and around the 5th Avenue store.
Updated x 5: