Time Capsule Arrives, Early Notes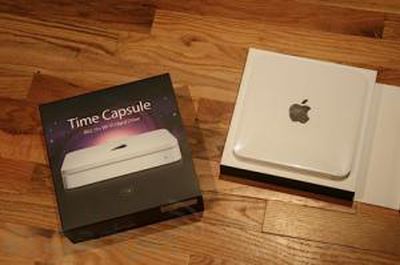 Image from Engadget
The first
Time Capsules
have started arriving, and some Apple Stores already have the new wireless backup solution in stock.
First impressions from Gizmodo and Engadget provide the following observations:
- New AirPort Utility software with easy to use step-by-step
- USB Drives connected to Time Capsule are available for backup
- Initial backup takes a while.
- An Apple Tech note recommends not interrupting your first backup. and notes that you can use an Ethernet connection for your initial backup.
- Can't transfer an existing Time Machine backup to Time Capsule.
- "so far it works as billed, clean and easy."
Apple has posted (PDF) the Time Capsule setup guide which provides detailed instructions on the the product's usage.
Time Capsule is a wireless backup accessory for the Mac that allows you to backup your computer's data. It was announced by Apple at Macworld San Francisco 2008 and is available in 500GB ($299) and 1TB ($499) models.