Apple Releases Firmware 1.1.4 for iPhone and iPod Touch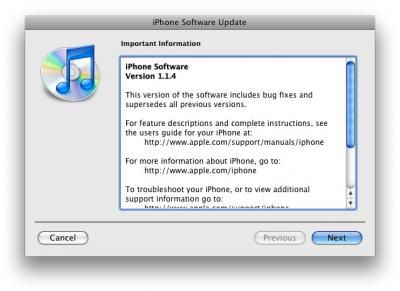 Apple has released the 1.1.4 Firmware update for iPhone and iPod Touch. No details yet on what new features (if any) have been included.
Apple released the 1.1.3 firmware at Macworld San Francisco and added a number of new features including Google Maps Location, Webclips, and Multiple-Contact SMS.
Early reports indicate that there are no obvious new features, but it does "break" unofficial apps (jailbreak). Apple was to announce the iPhone Software Development Kit (SDK) this month, so the release may add official support for 3rd party applications written with the SDK. The 1.1.4 firmware update is presently available through iTunes for your iPhone and iPod Touch.
Notes:
- No Flash support
- iToner 1.0.6 still works
- ZiPhone may work, but the developer warns not to upgrade as it hasn't been tested.
- Text message ordering fixed, according to one report
- Camera works better for some
- Fixes Bluetooth connectivity