iPhone 1.1.3 Features and Screenshots? Locate Me, Movable Icons, More... [Video]
GearLive claims to have played with the upcoming iPhone 1.1.3 firmware update and reveals a number of new features to be included to the latest version of the iPhone's software.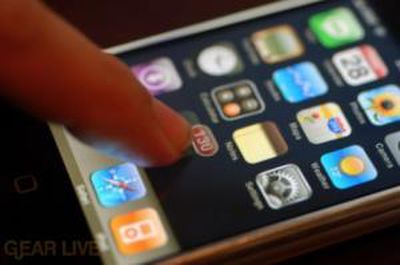 Dragging the Mail icon
The new features are
shown in a screenshot gallery
. Amongst the new features depicted:
- Edit Home Screen - Rearrange icons on your home screen
- Drag icons around with your finger
- Locate Me integration (pseudo-GPS) with Google Maps
- Another screenshot of Locate Me
- Send SMS to multiple people
- Add Safari Bookmarks to your Home Screen (example)
- Mirror of some images provided in comments thread.
The features shown do not correlate with some earlier rumors of the upcoming 1.1.3 firmware. GearLive has not previously been a known source rumors or images of upcoming Apple products. These new screenshots, however, appear convincing on casual inspection.
Update: Gizmodo posts a video of the 1.1.3 firmware with further claims that it is legitimate:

Nate says that "it installs on the phone no-questions-asked and for that you need to have Apple's private key, which i can confirm that the iphone hacker community does not haveas much as we would love to have it." Indeed, Apple's private encrypted key, used to authenticate all accesses to the iPhone most-private guts, hasn't been uncovered yet by anyone in the world.