Filemaker Introduces Bento Personal Database for Mac
Filemaker has introduced a new personal database application for Mac OS X called Bento.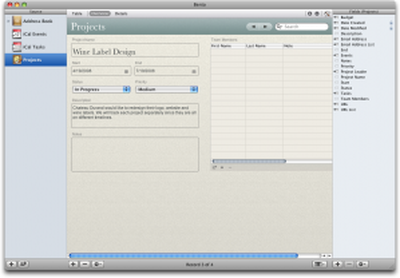 Bento organizes all your important information in one place. So you can manage your contacts, coordinate events, track projects, prioritize tasks, and more faster and easier than ever before.
Bento is described as being designed exclusively for Mac OS X Leopard and takes advantage of many Leopard-specific features, such as live linking to iCal, Core Animation, Advanced Find, Time Machine Backups and Multimedia features.
A free preview download is available. Filemaker, Inc. is a subsidiary of Apple and publishes FileMaker Pro for Windows and Mac OS X. Macworld provides a brief first look at Bento. Bento is expected to be released at Macworld San Francisco 2008 for $49 for a single license.