Apple Releases 'Phase' iPod Game
With the release of iTunes 7.5, Apple promised support for a new iPod game called "Phase" (iTunes link). The game was released yesterday to iTunes and sells for $4.99.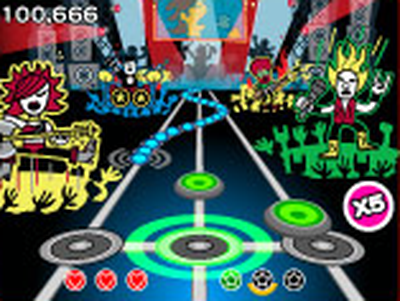 Phase is published through MTV Networks/Viacom but is a product of Harmonix, creators of Guitar Hero.
Phase is an interactive music game that lets you experience songs in an entirely new and unique way. Choose a song in your iTunes library, and Phase will turn it into a gameplay level. Press and glide the iPod's click wheel along with the rhythm of the music to catch notes and flowing sweeps.
The game is compatible with 3rd generation iPod nanos, iPod classic or the 5th generation iPod.
iLounge describes the gameplay, which is similar to existing rhythm games, such as Dance Dance Revolution and Guitar Hero:
Once you've selected a song, a 3-D road appears on the screen, with discs and dots floating towards you. Your goal is to tap the Click Wheel's left, center, and right buttons to match the current positions of discs that are moving towards the bottom of the screen, and slide your finger on the Click Wheel to catch "flowing sweeps" of dots that appear inbetween the discs.