New iPod Nano Released
Apple released a new iPod nano at the "Beat Goes On" special media event held at the Moscone West event hall in San Francisco today. Specs for the new device are as follows: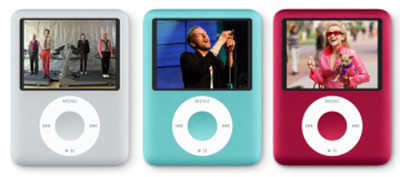 Incredibly smaller
New colors: (RED), silver, light blue, teal & green
Full Metal design
New User Interface - includes Cover Flow
Three games bundled - includes Vortex
Video-capable
Cover Flow
2" screen, with brigher, QVGA resolution (320x240) - highest pixel density Apple's ever shipped
4GB - US$149
8GB - US$199
24 hours of audio playback, 5 hours video playback
Shipping Today
Both models compatible with Nike+ running kit
Tagline for the new nano is "A little video for everyone." The revised nano had been previously rumored.
iPod Nano: Black , Silver, - now available on Amazon