MacRumors Reaches Four Million Posts
MacRumors Forums, the discussion boards for the MacRumors family of sites, has reached another milestone: four million forum posts.
The 4,000,000th post was made by member MisterMe at 9:53 AM EST on Saturday, August 4, 2007, in a thread named It's not great viewing photos in the Finder, is it? in the Mac OS X forum. Congratulations, MisterMe, and congratulations, MacRumors!
MacRumors.com opened on February 24, 2000, as a site to consolidate interesting Apple news and rumors. The current forum system opened in April, 2001. The MacRumors forums now have over 100,000 members and over 300,000 threads, with thousands of posts each day about Apple news, speculation and rumors, questions and answers, special topics such as design and graphics, and general discussion.
It took MacRumors 3 years and 4 months to reach one million posts, 1 year and 4 months to reach 2 million posts, 10 months to reach 3 million posts, and just over 9 months to reach 4 million posts. We attribute our rate of growth both to MacRumors' increasing rank among Apple-related sites on the web and to the increased interest in Apple and its wide range of products.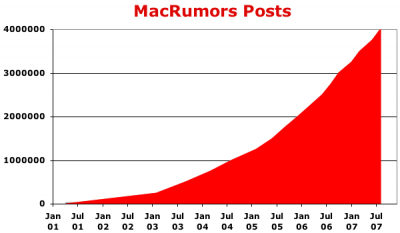 MacRumors is celebrating its 4 million post milestone with a tongue-in-cheek contest to find the Ultimate Apple Fanatic among our membership. See our Contest Announcement for details. Our 3 million post milestone was marked by an Apple Ad Contest.
We thank those who visit the MacRumors sites, participate in the forums, and make MacRumors the popular web destination and daily news stop for so many.
We'd also like to thank our staff for all their hard work:
Editors: arn, longofest
Administrators: Doctor Q, Knox, Mudbug
Moderators: AmbitiousLemon, Blue Velvet, devilot, edesignuk, HexMonkey, jsw, Mitthrawnuruodo, Mr. Anderson, Nermal, Rower_CPU, WildCowboy, WinterMute