iPhone Nano Design Possibilites?
With the recent claim that an iPhone Nano is truly in the works, speculation points to possible designs for a miniaturized design.
Hrmph consolidates recent iPod/iPhone patent applications which depict what appears to be a click-wheel iPhone design: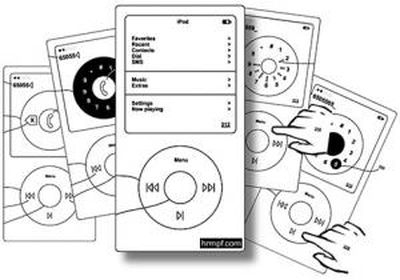 They go on to describe methods for dialing and text entry with the click wheel. What's most interesting about the depicted images is that they closely resemble an artist rendition of the purported iPhone prior to its launch in January. The September 2006 report came from reliable sources who had reportedly seen the device in person. After the iPhone was revealed in January, we assumed the report was simply wrong or a product of Apple's misinformation efforts surrounding the iPhone. However, if both phones have been in development for some time, this could still represent what the rumored iPhone Nano might look like.