Apple Stores in Australia and Boston
Boston.com reports on an upcoming Apple "flagship" store design due to be built in Boston at 815 Boylston Street later this year: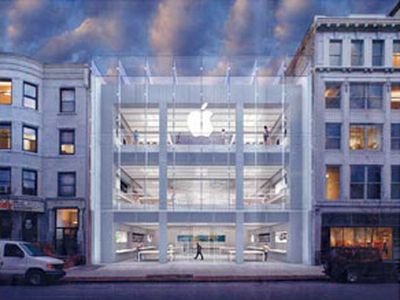 Mark Maloney, who stepped down as Boston Redevelopment Authority director last month, says: This building is going to have a wow factor. People will come to see this bright, shiny jewel box within a traditional neighborhood.
Meanwhile, ifoAppleStore and AppleInsider have posted images from a proposal by Apple to build an Apple Store in Melbourne, Australia at 625 Chapel Street, South Yarra:

The Apple store appears to be a 3-story design similar to Shinsaibashi (Osaka, Japan), but with a fourth floor enclosed in glass. The design uses the classic stainless steel design with back-lit Apple logo.
Two Apple stores were recently ranked in a list of the top 150 American Architecture.