When the iPad Pro launched, Zagg had a third-party keyboard ready to go for the device - the Messenger Universal, an affordable universal keyboard designed to fit a wide range of tablets as large as the 12.9-inch iPad Pro.
As a simple universal keyboard, it has the benefit of being readily available for purchase and it's relatively cheap compared to other options, but there are some definite downsides to the Messenger Universal that may prevent it from being a viable option for some people.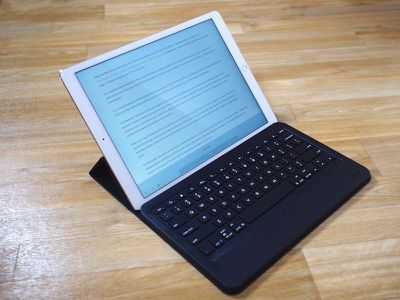 Rather than taking advantage of the Smart Connector on the iPad Pro, the Messenger Universal connects over Bluetooth like any traditional Bluetooth keyboard, pairing via the Settings app on the iPad Pro. I had no problems with setup and there were no loss-of-connection issues during my time testing the keyboard.
The Messenger Universal consists of a magnetic Smart Cover-style flap that props up the iPad and an accompanying full-sized keyboard. It doesn't double as a case or a cover for the iPad like the Logitech CREATE or Apple's own Smart Keyboard -- it's strictly a keyboard and a stand. Because it's made for a range of different devices, the Messenger Universal can be paired with other tablets and smartphones in addition to the iPad Pro.


When not in use, the keyboard folds up folio style with the cover portion protecting the keys, so it's fairly compact for travel. It is as wide as the iPad Pro at 12 inches, so it's going to take up a fair amount of space in a bag or backpack, and it's also just over a half an inch thick. The outside cover of the keyboard is a soft water-resistant material that'll protect the keyboard from rain and spills, and the keyboard itself is made from a lightweight plastic.




The Messenger Universal is positioned as a budget keyboard, so don't expect premium materials or bells and whistles -- it feels like a keyboard that costs $70. It's not flimsy and it doesn't feel like a product that's going to fall apart, but its build quality doesn't measure up to some of the other iPad Pro keyboards available on the market.


My biggest issue with the Zagg Messenger Universal is the angle at which it holds the iPad Pro. Compared to other keyboards, the viewing angle when typing is positioned too far back. I don't know how other people angle their screens when typing, but mine is not so far back as to be almost hard to see. I found the angle of the Zagg Messenger Universal to be uncomfortable for me, which was a deal breaker.

Zagg Messenger Universal angle


With most Bluetooth keyboards there are multiple angles to work with to meet different needs and preferences, but the Zagg Messenger Universal only has one. The cover can be folded in two ways, but both angles are essentially the same. The iPad Pro can, however, be positioned in landscape or portrait mode on the Messenger Universal's built-in stand.

Apple Smart Keyboard angle


Because the iPad Pro is held in place with just the folded cover of the Messenger Universal, it's not sturdy. The stand and keyboard worked fine on a flat surface, but in my lap, it was unstable. I wouldn't recommend this as a keyboard to use on the couch or in other areas where you don't have a flat surface to work with - there's too much wobbling.


Typing experience is one of the most important factors with any iPad keyboard, and this is an area where I had no complaints. There's a full sized keyboard that's as easy to type on as a MacBook Air or MacBook Pro keyboard, and I had no problems transitioning from a MacBook to the Messenger Universal. My typing speed remained the same and the keys had enough travel that each press felt satisfying under my fingers. Because the keyboard is made of plastic it's louder and more "clicky" than some other iPad keyboards, but overall, it offers a typing experience that most MacBook users will be satisfied with.


As with most third-party iPad keyboards, there is a row of special function keys included that do things like go to the Home screen, lock the iPad, open the app switcher, open a search, take a screenshot, and control sound and media playback. The dedicated screenshot key is a nifty feature that's not on a lot of iPad keyboards, but it does come at the expense of dedicated buttons for controlling screen brightness.
The Zagg Messenger Universal is battery powered and will require charging every few months using an included micro-USB cable. Power can be turned off using a button at the side, but the keyboard will also go to sleep when its cover is closed.

Bottom Line
At $70, the Zagg Messenger Universal is a lot less expensive than more sophisticated iPad Pro keyboards like the Smart Keyboard or the Logitech Create, but it's also a basic entry-level option that has a few downsides. While the keyboard itself offers a solid typing experience, the single oddly tilted viewing angle may be unappealing to some users and the cover that holds the iPad Pro in place can be unstable at times, especially in a lap.


As just a keyboard, it doesn't offer any additional protection for the iPad Pro like other options, and since it's the same size as the iPad Pro, it doesn't offer benefits like superior portability. It's essentially on par with many third-party standalone Bluetooth keyboards, some of which are less expensive. A slim standalone keyboard paired with an iPad Pro case or Smart Cover is an option that's just as viable as the Zagg Messenger Universal.


Zagg has another iPad Pro keyboard coming out in the near future, which is tailored specifically for Apple's larger tablet and could be worth waiting for. Right now, there are limited options for iPad Pro keyboard solutions, but over the next few months, available products should expand quite a bit.
Pros:
Light weight
Affordable
Good key feel
Works with all iPads/iPhones
Cons:
Single viewing angle
Viewing angle is too far back
No backlighting
Cover stand isn't sturdy for lap use
How to Buy
The Messenger Universal can be purchased from the Zagg website for $69.99.
Note: MacRumors received no compensation for this review.