Honda consistently ranks as a top five best-selling car brand in the United States, so it's worth taking a look at the company's Display Audio infotainment system and how well it works with CarPlay.
Honda was one of the first car brands to support CarPlay, starting in late 2015 with the 2016 Accord, and the company has since expanded support across nearly its entire lineup. I had the opportunity to spend some time with a 2018 Honda Accord Hybrid, which offered me a chance to try out Display Audio, CarPlay, and some of Honda's slick hybrid technology.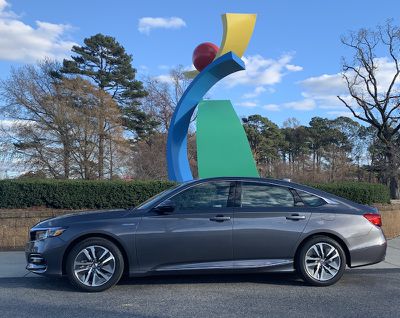 My Accord Hybrid came in the high-end Touring trim, which tops out at a little over $35,000. It includes all of the bells and whistles you might expect from a top-level trim on a mid-range car, including a heads-up display, heated and ventilated front seats, built-in navigation, rain-sensing wipers, and even a wireless phone charger that'll talk a bit more about later.
Honda has been at the forefront of driver safety technology, and every Accord trim comes with Honda Sensing standard. The suite includes a collision mitigation braking system, road departure mitigation, adaptive cruise control with low-speed follow, lane-keeping assist, and, newly standard in 2019, traffic sign recognition.


The two-motor hybrid system Honda is using in the Accord delivers an EPA rating of 47 MPG and offers a remarkably smooth ride that feels like an all-electric vehicle much of the time. That's because at most speeds (up to about 50 mph), only the electric drive motor is connected to the wheels and providing the drive force. When the gas engine kicks in, initially it's solely being used to generate electricity for the hybrid system.


Only as you approach highway speeds or briskly accelerate and power demand increases beyond what the electric drive motor can provide does the gas engine connect to the front wheels to provide drive power. As a result, the Accord Hybrid doesn't have a traditional transmission and instead has only a single gear that's the equivalent of sixth gear in a six-speed manual transmission to provide "direct drive" power.

Digital driver's display
CarPlay is available on all but the entry-level LX and base Hybrid trims, as they have the basic 7-inch LCD infotainment screen. Sport and higher trims come with an 8-inch Display Audio touchscreen, and all of these trims support CarPlay with no additional packages, options, or fees required.
Display Audio
In addition to the generously sized 8-inch capacitive touchscreen, Honda has also equipped its Display Audio system with a number of hardware controls, including volume and tune/scroll knobs and a series of buttons along each side of the display for jumping directly to specific functions. It's a handy combination that combines the tactility of buttons to help keep your eyes on the road with the flexibility of a touchscreen.

Main screen of Display Audio system
The screen itself has a matte finish, so glare and fingerprints are thankfully minimized, and it supports touch, swipe, and pinch gestures within the Display Audio system.

Second page of main screen tiles
The Display Audio's home screen is centered around pages of tiles for various functions, all color-coded to make it easy to identify their categories. For example, the navigation tile has a red hue, while phone functions are green, audio tiles are blue, and system tiles are yellow. It's a somewhat subtle shading, with a band or bright color across the top and a gentle fade down through the tile. The design helps the tiles stand out without being too colorful. The home screen layout can be customized by tapping and holding on the screen, which enters an edit mode where you can add, hide, and rearrange tiles however you see fit.
In a strip along the top of the screen, you'll see a persistent set of icons that lets you jump directly to commonly used functions. Like the main tiles, these shortcut icons can be customized to make it easy to access phone, navigation, audio, or other apps from anywhere else in the Display Audio system. The strip also displays current audio information, the time, and small icons representing such data as signal strength of a paired phone, Bluetooth and USB connections, hotspot signal strength, and more.

Customizing app tiles and shortcut icons
To the left of the screen, you'll find hardware buttons for returning the Display Audio home screen, going back a screen in the hierarchy, adjusting display brightness, and changing audio tracks, as well a volume knob. To the right of the screen are quick-access buttons for jumping to navigation, phone, and audio apps, as well as a source button that takes you directly to a menu to switch among AM/FM, Sirius XM, CarPlay, USB, and other audio sources. There's also a tune/scroll knob to help navigate options or change radio/SiriusXM stations.

SiriusXM screen
The 8-inch screen is a nice palette for Honda's navigation system, which offers a helpful "3D" perspective view that shows a good amount of your surroundings to help orient you. The display's location high on the center stack makes it easy to glance over, and it's bright and crisp with a solid combination of detail and easy-to-tap interface elements.

Main map view
Honda's Display Audio system doesn't yet support natural language input, so you'll need to use trigger phrases to accomplish needed tasks. I didn't find it nearly as clunky as Volvo's system, however, and the system helpfully displays trigger word options for each step as you walk through the hierarchy. For example, to set a destination, you can say "Navigation," then "Find Place," then a business name. Once the system pulls up some results, you'll be able to choose the correct one by line number, confirm, and you're off.

Navigation system search results with addresses almost entirely cut off
One aspect of this process that could be improved is the layout of the destination search results. In some cases, the name of the business is so long that you can't see much other information about the specific location like the address, which makes it a bit difficult to easily identify the location you want just from the list. A compass direction and distance is included for each result, but being able to see the street address right in the list would be much more helpful.

Destination/POI search using the touchscreen
The POI database is generally solid, and the system does a good job of pulling up relevant results, although I did run into one issue where it was unable to find my doctor's office when I searched using only a portion of the practice name. When I used the full name, the office came right up, so I was surprised that my initial search didn't find a hit as a partial match and instead simply yielded no results. Other partial searches like "FedEx" do pull up proper results even when the business name in the database is "FedEx Office Print & Ship Center," so it's not a ubiquitous problem.

Exit sign pop-over
On highways along your route, Honda includes a nice pop-over exit sign view on the right side to help you identify the proper exit.

Hardware climate controls
Honda has wisely kept climate controls out of the Display Audio system, and there is a full set of climate control buttons and knobs within easy reach on the dashboard. All trims come with dual-zone automatic control with temperature knobs that subtly change color as you adjust the settings.
Ports, Wireless Charging, and Connectivity
Honda provides two USB-A ports in the front of the Accord, both offering up to 2.5 amps of charging power and both providing connectivity to the Display Audio system for CarPlay, iPod audio, or other options.
The first USB port is inside what Honda refers to as the center pocket where the center stack meets the center console. There's a USB port and a 12V power port tucked inside this pocket, and it has a garage door-style cover that can be closed to conceal what's inside.
That center pocket also optionally includes a Qi wireless charger, which is a great option although rather pricey at $300. The option is available on all trims with the exception of the high-end Touring where it's included standard.

Center pocket with USB port, 12V port, and Qi charger
The charger includes a power button that lets the charger be left on or off as you desire, and then a pair of status lights: green to signify the charger is on and amber to signify that a device is charging. On supported devices (not iPhones), the light will switch back to green when the device is fully charged. There are also two small rails in the bottom of the pocket to help keep your phone aligned on the charger's sweet spot.

Plus-sized phone on Qi charger
The second USB port is inside the center console compartment, which provides another option for hiding away your phone or other device connected to the Display Audio system. The center console compartment is fairly deep, and there's a removable tray sitting on the top of the rear half that's a convenient place to rest a connected phone.

Phone plugged into center console compartment (left) and console overview (right)
Honda also offers rear USB ports as an option on the Sport trim and higher as a $120 standalone option, but my test vehicle was not equipped with them. They're charging-only ports, so they won't allow you to deliver media to the Display Audio system, but they do provide 2.5 amps of power each, so they're great for keeping iPads charged up.
The Accord also comes with NFC capabilities, but unfortunately this feature currently only works with Android phones using Android Beam. It lets you tap your phone on the NFC N-Mark on the dashboard to more quickly pair your Android phone to the Display Audio system over Bluetooth and also transmit a wallpaper image from your phone to use on the Display Audio system.

N-Mark NFC logo on dashboard
While it's not a big deal to jump through the normal Bluetooth pairing process once when you first get your car, NFC is a simple way for friends with Android phones to get their devices paired up to share music on road trips, for example.
Honda does offer vehicle Wi-Fi hotspot capabilities in the Accord and Accord Hybrid through AT&T, but only on the top-of-the-line Touring trim where it's standard. It's not available even as an option on any of the lower trims.
Separate from the hotspot capabilities, Honda also offers several HondaLink connected car packages for the Accord, depending on trim. Entry-level trims have free access to the Basic package that offers a digital owner's manual, recall notifications, service appointment booking, parking location reminders, and roadside assistance during your warranty period. With higher trims, you can also access the free Link package that lets you see dashboard stats like mileage and fuel range from your phone, receive warning and maintenance notifications on your phone, and send destinations from your phone to the in-vehicle navigation system.

HondaLink functions
The high-end Touring trim offers several additional paid HondaLink package options, including the Security package that can automatically connect you to a live agent if a collision is detected and offer enhanced roadside assistance, priced at $89 per year after the first year.
A Remote package priced at $110 per year after a three-month trial offers features like remote start and lock/unlock, geofencing and speed alerts that can help keep tabs on teen drivers, security alarm alerts, stolen vehicle locator technology, and more. Finally, a Concierge package priced at $260 per year after a three-month trial gives you to a live assistant who can perform tasks such as making reservations, finding nearby events and more. The Remote package features are also included in the Concierge package.

CarPlay
Unsurprisingly, Honda's CarPlay implementation is a wired one, which is unfortunate considering the company offers convenient Qi wireless charging right in the center pocket. The missed opportunity is made a bit more frustrating by the fact that a Plus/Max-sized iPhone with a Lightning cable sticking out the bottom is just a little bit too long to fit comfortably in the center pocket without sitting oddly or putting strain on the cable.
It's not a deal-breaker, however, and it's great that you also have the option of using the USB port in the center console compartment for CarPlay, either tucking your iPhone away in that compartment or routing the cord out and using a cupholder conveniently shaped with a flat side to accommodate a phone. Most other manufacturers limit CarPlay to working over a single USB port, so I really like that Honda has provided an option here.

Main CarPlay home screen
CarPlay looks nice on the large 8-inch screen, although Display Audio lacks some of the more seamless integration I've seen with other infotainment systems. CarPlay takes up the entire screen, so you can't see any information from Honda's system simultaneously unless you've configured things to show it elsewhere such as navigation directions in the heads-up or driver display.

Apple Maps in CarPlay
It's easy enough to hop out of CarPlay using the Display Audio hardware buttons, which can quickly take you to the Honda home screen, the Display Audio navigation, or the audio display/options. Getting back into CarPlay from Display Audio can, however, take a couple of steps, depending on how you have things laid out, so I recommend setting up one of the persistent icons in the top strip to get you back to CarPlay with a single tap.

Now Playing app in CarPlay
If you want to use Honda's navigation and CarPlay's Apple Music app, for example, you can control some aspects of the CarPlay music playback from the Display Audio system, so once you get your tunes up and running in CarPlay, you can hop back to Display Audio and may not necessarily need to get back into CarPlay.

Voice assistant/Siri button at right side of lower left steering wheel cluster
Siri voice input for CarPlay works similarly to most other manufacturers' systems, with a short press on the steering wheel voice button bringing up Honda's assistant and a long press bringing up Siri. With the exception of the track buttons and the tune/scroll knob being able to change between album or playlist tracks in CarPlay audio apps, none of the other hardware buttons in the Display Audio system can be used to control CarPlay. That's not an issue, however, as voice and the touchscreen are plenty simple to use.
Wrap-up
Honda's Display Audio system offers some solid hardware with a quality 8-inch touchscreen that's well-positioned at the top of the center stack and minimizes both fingerprints and glare. The inclusion of hardware buttons and knobs around the display definitely helps with usability, making it easy to quickly access popular functions and make common adjustments by feel.
The software is pretty solid as well, offering a clean interface that's customizable with easy-to-find tiles. I wish the navigation system supported natural language input, but as it stands the voice interface isn't bad. You can move pretty rapidly and intuitively through the various steps to get directions to your destination. I do wish the navigation search results screen was laid out a bit better to make it easier to identify location options at a glance.
CarPlay looks nice on the big display, but I do miss the widescreen displays offered on some other vehicles that let you see some of the native infotainment data in a split-screen view alongside CarPlay. Still, Honda makes it reasonably easy to hop back and forth between Display Audio and CarPlay, particularly if you configure a shortcut icon for CarPlay.
Honda has done a decent job of bringing CarPlay to most Accord buyers, leaving it out of only the LX and base Hybrid trims as those vehicles offer smaller, non-touchscreen infotainment systems. Hopefully it won't be too much longer before the more full-featured Display Audio system becomes standard equipment across the lineup. For those trims that do include Display Audio, Honda doesn't charge extra for CarPlay support.
The 2018 and 2019 Honda Accord models in Sport trim, the lowest one that supports Display Audio and CarPlay, start around $26,000, and you can go up to around $35,000 for the Touring trim, although you can push the price even a bit higher with assorted options, particularly upgraded 19-inch wheel options that can add about $3,000 over the standard 17-inch wheels.