Apple has released iOS 17.1, and amongst other features the update includes a new Lock Screen personalization option for iPhones. Here's how to make your Lock Screen wallpaper shuffle through photos from a specific album in your photo library.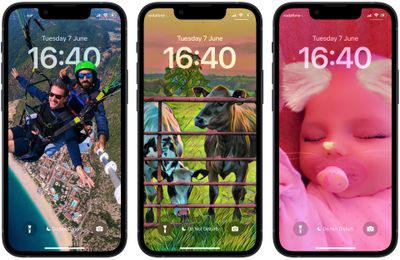 In recent versions of iOS, Apple has made it possible for users to customize the Lock Screen in ways that were simply not possible in earlier versions of its mobile software, and one feature in particular that has proven popular is the ability to shuffle photos on your Lock Screen wallpaper at specific intervals or whenever you wake or tap the screen.
In iOS 17.1, Apple has extended this feature so that you can now shuffle pictures from a specific album from your photo library, rather than having to manually select individual photos or rely on Apple's preset options of People, Pets, Nature, and Cities. The following steps show you how it's done on iPhones running iOS 17.1.
Press and hold on the Lock Screen until the wallpaper gallery appears, then tap the blue + button in the bottom-right corner of the screen.
Select Photo Shuffle from the wallpaper menu.


Tap the new Album option, then choose the album of photos from your library that you'd like to shuffle between.
Next, choose a Shuffle Frequency: Daily, Hourly, On Lock, or On Tap.

Tap Use Album to move on.


Tap the screen to preview the photos in your chosen album as they will appear on your Lock Screen, and tap the clock to adjust the font style and color so that the time, date, and any widgets remain legible against all of your pictures.
Tap Done in the top-right corner to finish, then choose either Set as Wallpaper Pair to finish or Customize Home Screen to tweak its look separately, then tap Done.

Tap your new album-specific photo shuffle wallpaper in the gallery to make it live. Then you can tap or wake your ‌iPhone‌'s screen to change the photo, or wait for it to change automatically, depending on your chosen option.