Deleting individual recordings in Apple's native Voice Memos app for iPhone and iPad is really easy. Launch the app, and in the list of recordings, just tap the one you want to delete, then tap the trash icon.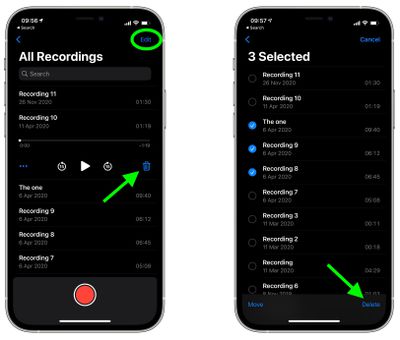 If you want to delete multiple recordings in one go, tap the Edit button in the top-right corner of the screen, then select the recordings that you want to remove. Once you're done selecting recordings, tap the Delete button in the bottom-right corner of the screen.

Change How Long Deleted Recordings Are Kept
Deleted recordings are moved to the Recently Deleted folder, where they're kept for 30 days by default. To change how long deleted recordings are kept, follow these steps:
Launch the Settings app.
Scroll down and tap Voice Memos.
Under "Voice Memo Settings," tap Clear Deleted.
Select one of the following options: Immediately, After 1 Day, After 7 Days, After 30 Days, or Never.

Note that in the "Voice Memo Settings" section, you can also adjust the audio quality of recordings. If you're eager to save on storage and don't mind sacrificing a bit of quality, make sure Compressed is selected, rather than Lossless.