iOS 8 Adoption
By MacRumors Staff
iOS 8 Adoption Articles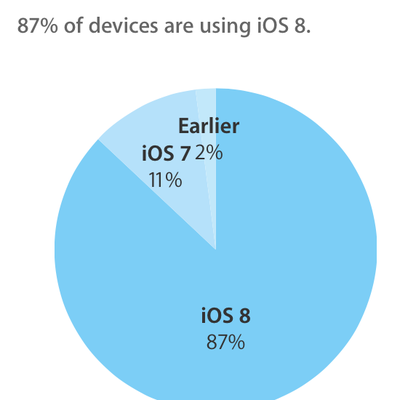 Apple's iOS 8 is installed on 87% of iOS devices a year after its release, according to new numbers shared by Apple on its App Store developer page. The new numbers come on the eve of the launch of Apple's newest mobile operating system, iOS 9. iOS 8 adoption has been somewhat slower than iOS 7, with iOS 8 hitting 72% adoption in January 2015. iOS 7 was at 80% adoption at the same point....
Apple's latest distribution numbers show that 81% of iOS devices are now running iOS 8 or later, less than one week after the release of the Apple Watch. 17% of devices used to access the App Store continue to run iOS 7 and the remaining 2% are running an earlier software version. iOS 8 adoption rose 2 percentage points since Apple shared its last distribution numbers earlier this month, with...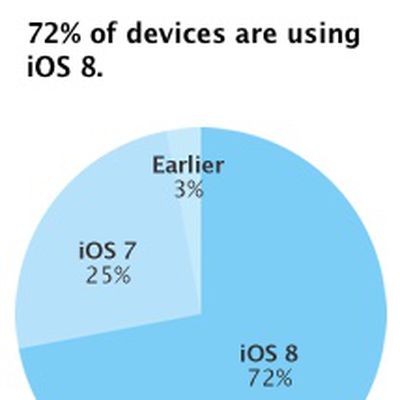 Apple's newest operating system, iOS 8, is installed on 72 percent of iOS devices almost five months after it first launched in September of 2014, according to new numbers Apple shared on its App Store support page for developers. Installation numbers are up 9 percent since mid-December and have jumped 3 percent since January 20, following the launch of iOS 8.1.3 at the end of the month. As...