iCloud Photos
By MacRumors Staff
iCloud Photos Guides

iCloud Photos, formerly known as iCloud Photo Library, is an Apple service that moves the user's entire photo and video library into the cloud. It's part of Apple's push to make it as easy as possible for users to switch among Mac and iOS devices throughout the day, making sure the user's photos are available on all of their devices and ensuring any changes get quickly synced across devices. ...
iCloud Photos Articles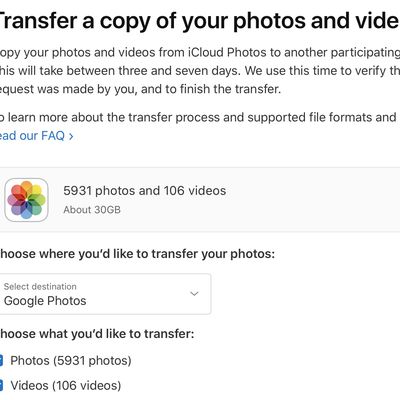 Apple this week introduced a new service that's designed to make it quick and easy for iCloud users to transfer their stored photos and videos to Google Photos. As outlined in an Apple support document, you can go to Apple's privacy website and sign in to see the "Transfer a copy of your data" option. If you select this and go through all the steps, Apple will transfer your ‌iCloud‌ photos...