Apple Removes OS X Lion and Mountain Lion From Online Store
Apple has officially ceased the sale of OS X Lion 10.7 and Mountain Lion 10.8 from its online store.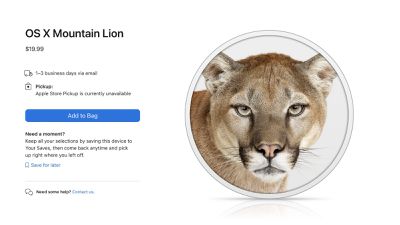 The change was spotted by @ClassicII_MrMac on X, formerly Twitter. The original release of OS X Lion was available either as a digital download from the Mac App Store or via a USB thumb drive preloaded with the installer. Mountain Lion, on the other hand, was distributed exclusively as a downloadable product, delivered via an emailed redemption code.
Apple's shift from physical to digital distribution became clear upon the release of OS X Lion in July 2011, marking the company's transition to online-only releases. Lion introduced features such as multi-touch gestures, Mission Control, and full-screen apps, but it also posed a challenge for users without access to the ‌Mac App Store‌. This was particularly true for those still running OS X Leopard, as they were unable to upgrade to Lion without first obtaining Snow Leopard or purchasing the Lion installer thumb drive.
OS X Mountain Lion, which debuted in July 2012, continued this trend. Mountain Lion was the last macOS version not initially offered for free. The digital-only approach was solidified with OS X Mavericks (version 10.9) in October 2013, establishing the ‌Mac App Store‌ as the sole avenue for obtaining new macOS versions.
While Apple ceased supporting both Lion and Mountain Lion some time ago, it continued to sell digital copies of these operating systems until now. Apple continues to offer OS X Lion and OS X Mountain Lion as free digital downloads for those who still need them.